The 14th annual Husky Student Leadership Summit will be held on
Saturday, February 29, 2020 from 10:00 A.M. to 5:00 P.M. in the Kehr Union.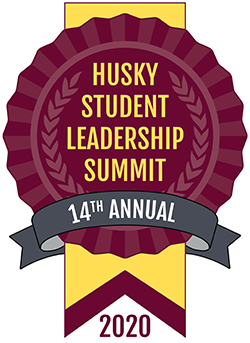 The Husky Student Leadership Summit is an annual leadership conference presented by BU alumni, faculty, staff and student leaders. This year's theme is "Leap into Leadership"
Goals of the Event:
To showcase the benefits of student involvement in civic engagement, volunteerism and mentorship
To promote the opportunities for leadership within student clubs and organizations
To provide opportunities for students to complete requirements for their CLE Leadership Certification Levels 1, 2 and 3
To provide opportunities for student leaders to connect and share experiences with BU alumni
To provide the foundational life and leadership skills needed for college students to be social agents of change in our society
Student Learning Objectives:
To help participants feel more confident articulating their leadership style, skills, strengths, and areas of improvement with others
To educate participants regarding available opportunities to serve as a positive, contributing member of our community
To strengthen participants abilities to apply their leadership skills within an organization, group, team and/or community
With a focus on leadership development, campus & community involvement, student success, school pride and wellness education, participants will get the chance to engage in a networking lunch, hospitality center, LCP workshops, panel discussions, self-care and chill zone, activities and involvement fair, interviewing practice sessions and leadership escape rooms.
Registration is free and open to ALL Bloomsburg University students! Includes free giveaways throughout the conference!
It sponsored by the Center for Leadership & Engagement (CLE), Community Government Association (CGA) and Alumni & Professional Engagement (APE).
Leadership Summit Information:
---
How to Register for the FREE Leadership Summit:
Log into HuskySync on the BU website using your BU username and password
Go to "Forms"
Fill out "Husky Student Leadership Summit Registration 2020"
Choose what you want to attend and hit submit!
Any questions? Email gkinzel@bloomu.edu
---
Evaluations & Assessments
Complete the HSLS 2020 Session Evaluation after every session you attend.

HSLS 2020 Session Evaluation
---
Complete the HSLS 2020 Post Assessment after the last session you attend.

HSLS 2020 Post Assessment